Truong Tran
From Wikivietlit
Truong Tran (1969) is a Vietnamese American poet and writer, living in San Francisco.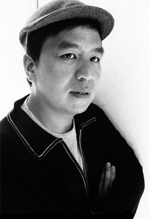 In 1975, Truong Tran immigrated with his family to the San Francisco Bay Area. He received his education at The University Of California, Santa Cruz and San Francisco State University where he earned a Master of Fine Arts in Creative Writing. He has won poetry fellowships from Arts Council of Santa Clara, The California Arts Council and The Creative Work Fund Grant. In 2003, he was Writer In Residence for Intersection for the Arts. Truong lives in San Francisco, where he teaches creative writing at San Francisco State University and Mills College.
He is author of the poetry collections: placing the accents (Apogee Press, 1999), a finalist for the Western States Book Prize for Poetry; dust and conscience (Apogee Press, 2002), winner of the 2002 San Francisco Poetry Center Book Award; and most recently, Within the Margin (Apogee Press, 2004). His poems have been published in literary journals such as Fourteen Hills, ZZYZZYVA, The American Voice, Crazyhorse, ACM and Poetry East as well as in the anthology Watermark: Vietnamese American Poetry & Prose (1998).
The Book of Perceptions (Kearny Street Workshop, 1999), a collaboration with photographer Chung Hoang Chuong, was a finalist for The Kiriyama Prize. Aside from poetry, he is also the author of the bilingual children's book Going Home Coming Home / Về Nhà, Thăm Quê Hương (Children's Book Press, 2003).
Hai-Dang Phan started this entry.
Truong Tran online