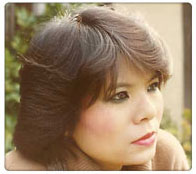 When does the story begin? Every story has a beginning, but mine has several. It is like the road you are traveling where any point can be a starting point, or a chain whose connecting links form such a complete whole that an event that happens in the first link is not necessarily the cause of one that takes place in the last link. Events in a person's life do not occur consistently and uniformly, though, if you wish, you can put them together in their chronological order. Rather, they resemble fragments of a forgotten story. Yes, an immigrant's life consists of fragments joined together by that fragile string that we call a human soul.
From "Invisible Woman" by Tran Dieu Hang, translated by Qui-Phiet Tran
Tran Dieu Hang was born in 1952 in Ha Noi. Her mother had been a magazine editor there, and her father practiced architecture all over the country. When the treaty at Geneva in 1954 divided the territory of Viet Nam into north and south, the family emigrated to Saigon.
Dieu Hang studied through the second year at the School of Law but when Saigon fell in 1975 she emigrated for second time, to a new life in the United States. Her family came with her, although her father had already left the country for political reasons in 1956, to Cambodia, where he designed temples and monuments for the royal family.
Dieu Hang worked on an assembly line in California while she went back to school. She earned a bachelor's degree in Management Information Systems at California State University, Fullerton. Since 1982 she has worked as a programmer analyst for Chevron-Texaco Petroleum, Inc. She lives with her two children in Orange County, California.
Dieu Hang believes that she was the first Vietnamese woman to publish fiction in the United States after the fall of the Saigon. The story, Trai Thang 4 (April in Camp Pendleton) appeared in Que Huong magazine in 1979. This was her first appearance anywhere as an author, although she was editor in chief of the annual at Trung Vuong, Saigon's elite high school for young women.
Since the stories of Tran Dieu Hang have appeared in the most prestigious Vietnamese-language literary journals of North America: Van, Van Hoc, Lang Van, The Ky 21, and Hop Luu. She has published four books of stories: Vu Dieu cua Loai Cong (The Peacock Dance) in 1984, Mua Dat La (Rain on the Strange Land) in 1986, Chom Chom Yeu Dau (Chom Chom Darling) in 1989, and Niem Im Lang cua May (The Silence of Clouds) in 2002.
Neighborhood shoppers and beauty magazines in Vietnamese communities across the United States, France and Australia have reprinted these stories. The publishers don't ask for permission, but the stories do seem to find a wide audience. Translator Qui-Phiet Tran read his first Tran Dieu Hang story in one of these giveaway publications, at a market in Texas.
In recent years Dieu Hang has appeared, in person and in print, at schools and in English-language university publications. For example, in 1992 she gave a reading of her short story, "Zenith" at the University of California, Santa Barbara. Qui-Phiet Tran's translation of the story appeared that same year, in the first issue of Asian America: Journal of Culture and the Arts. Citations to this and other translations are given here.
---