DVAN
From Wikivietlit
The Diasporic Vietnamese Artists Network (DVAN) was launched on February 8, 2008 "to promote artists from the Vietnamese diaspora whose work in literature, visual art, film, and performance art enriches our communities and strengthens ties between Vietnamese across the globe."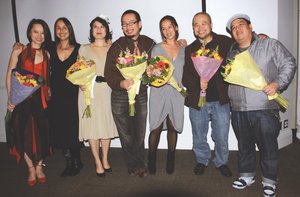 Several of the core members are Californians who have studied and worked together for years, some in the group Muc va Mau (Ink and Blood). The DVAN website stresses continuity between research, teaching, and the arts.
The board includes Isabelle Thuy Pelaud, Viet Thanh Nguyen, David Nguyen, Kathy L. Nguyen, Nguyen Qui Duc, Lan Duong, Mariam B. Lam, Viet Le, Aimee Phan, and Julie Thi Underhill. The advisory committee includes Quang Bao, Rebekah Linh Collins, Ly-Lan Dill, Ysa Le, Nguyen-Vo Thu-Huong, Khanh Mai, Quang X. Pham, Truong Tran, Monique Truong, Linda Trinh Vo, and Minh Tsai.
Entries started by Dan Duffy.
DVAN online