David A. Willson
From Wikivietlit
David A. Willson
(1942) is a novelist, and bibliographer of American literature and film from the Viet Nam war.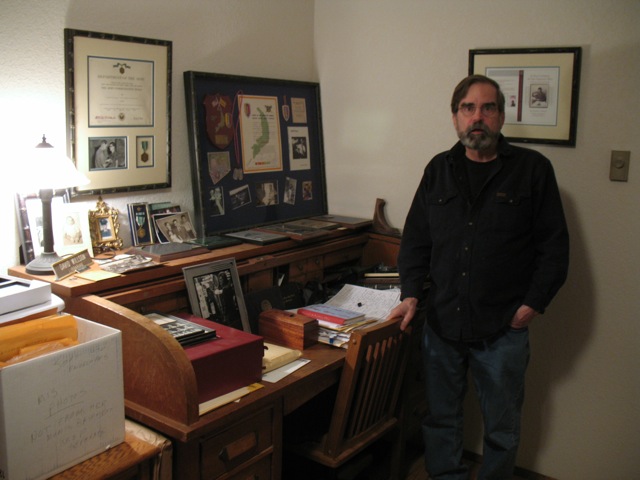 His principal work in fiction is the REMF (Rear Echelon Motherfucker) series: REMF Diary (Black Heron, 1988), The REMF Returns (Black Heron, 1992) and the prequel In the Army Now (Viet Nam Generation and Burning Cities, 1995). These novels extract the most boring and petty details from Willson's contemporary documentation of his own service as a stenographer with the Inspector General of the Army in Saigon, Republic of Viet Nam 1966-7.
They present the Viet Nam war as experienced most of the time by most United States servicemen, but not really. Willson is unusual among the veteran novelists in that he went to that war with a bachelor's degree. It was in Writing, and his approach was writerly from the start, not only taking notes but thinking about how to reach the reader.
Where even fellow baccalaureates Tim O'Brien and Joe Haldeman first published war diaries before launching the imaginative work that made their names, Willson began with the vein of fantasy that characterizes the convincing fiction from the Viet Nam War. The fantastic element in the REMF books begins with the narrator's fascination with Madame Ky, wife of the Republic of Viet Nam leader.
The final volume of the REMF series, REMF Diary of Dying and Bureaucratic Complexity (manuscript) picks up the story in 2008, after the author's diagnosis with multiple myeloma, caused by dioxin in the water supply at Long Binh.
A poet as well as novelist, Willson is equally known as a formative bibliographer of the US literature of the Viet Nam war, a collaborator in John Baky's LaSalle University collection, Imaginative Representations of the Vietnam War, Lydia Fish's early VWAR listserv at her Viet Nam War Oral History and Folklore Project, Marc Leepson's "Arts of War" column in the VVA Veteran, Jean-Jacques Malo's Vietnam War Films, John Newman's Vietnam War Literature, and Kali Tal's Viet Nam Generation, Inc. as well as convenor of the annual Viet Nam War Writers' Symposium and author of his own REMF Bibliography with Nancy Kendall.
He has carried out his art and scholarship as reference librarian at Green River Community College, Auburn, Washington from 1970-2000 and subsequently at home in Maple Valley. He taught courses on the history of the Viet Nam war and its popular culture, and supported other teachers and their students across the country.
In 1997, The Vietnam Veterans of America presented him with their "Excellence in the Arts Award for your outstanding contribution to American culture." In retirement he worked with Bruce O. Solheim to bring out Viet Nam War Generation Journal.
David A. Willson works
Prose
Poetry
Bibliography
Works about David A. Willson
Reviews
Interviews