Khanh Truong
From Wikivietlit
Khánh Trường
(1948), real name Nguyễn Khánh Trường, is an editor, fiction writer, poet, painter and illustrator.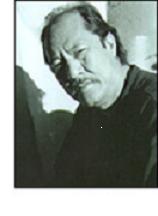 He was born in Central Vietnam, emigrated to the US in 1986, and is living in southern California. As the editor of the groundbreaking journal Hợp Lưu, he was a central figure in Vietnamese literature for more than a decade. He is the author of Ðoản Thi Khánh Trường, poetry (Sống Mới, 1988), Chỗ Tiếp Giáp Với Cánh Ðồng, short stories (Tân Thư, 1991), 20 Năm Văn Học Việt Nam Hải Ngoại 1975-1995, an anthology he edited with Cao Xuân Huy and Trương Ðình Luân (Ðại Nam, 1995), Có Yêu Em Không?, short stories (Tân Thư, 1990), Chung Cuộc, short stories (Tân Thư, 1997). His stories have also been translated into French by Phan Huy Đường and published as Est ce que tu m'aimes? (Paris: Editions Philippe Picquier, 1998).
Linh Dinh started this entry.
Khánh Trường online