Phan Huy Duong
From Wikivietlit
Phan Huy Đường
(1945) is a philosopher, bilingual fiction writer, in French and Vietnamese, and translator from Vietnamese into French.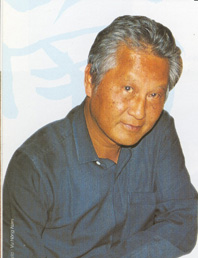 He was born in Hanoi and has lived in France since 1963. He has translated numerous Vietnamese authors into French, most notably Phạm Thị Hoài, Trần Vũ, Dương Thu Hương and Bảo Ninh. He is also the proprietor of the literary website, Ăn mày văn chương.
Works in French
Conception et réalisation assistées par ordinateur de logiciels de gestion (Paris: Masson, 1983)
Un amour métèque, novel (Paris: L'Harmattan, 1994)
Littérature contemporaine du Vietnam, article dans Dictionnaire universel de la littérature contemporaine (Paris: PUF, 1995)
Penser librement (Lyon: Éditions Chronique Sociale, 2000)
Linh Dinh started this entry.
Works in Vietnamese
Vẫy gọi nhau làm người (California: Hồng Lĩnh, 1996)
Tư duy tự do (Danang: Đà Nẵng, 2006)
Translations
La messagère de cristal [Thiên sứ by Phạm Thị Hoài] (Paris: Éditions des Femmes, 1990)
Les paradis aveugles, [Những thiên đường mù by Dương Thu Hương] (Paris: Éditions des Femmes, 1991)
Roman sans titre [Tiểu thuyết vô đề by Dương Thu Hương] (Paris: Éditions des Femmes, 1992)
Terre des éphémères [an anthology of 15 authors] (Paris: Éditions Philippe Picquier, 1994)
Le chagrin de la guerre [Nỗi buồn chiến tranh by Bảo Ninh] (Paris: Éditions Philippe Picquier, 1994)
En traversant le fleuve [an anthology of 11 authors] (Paris: Éditions Philippe Picquier, 1996)
Au-delà des illusions [Bên kia bờ ảo vọng by Dương Thu Hương] (Paris: Éditions Philippe Picquier, 1996)
Est-ce que tu m'aimes? [Có yêu em không? by Khánh Trường], (Paris: Éditions Philippe Picquier, 1997)
En dehors de la vérité [Bên ngoài sự thật by Nguyễn Thị Minh Ngọc] (Paris: Maison Antoine Vitez, 1997)
Sous une pluie d'épines [Mùa mưa gai sắc by Trần Vũ] (Paris: Flammarion, 1998
Myosotis [Lưu ly, Dương Thu Hương] (Paris: Éditions Philippe Picquier, 1998]
De loin… ma Patrie & Siècle [Từ xa… Tổ Quốc & Thế kỷ by Nguyễn Duy and Lê Bi] (Paris: Association Maison de la Poésie, 1997)
Terre des oublis [Chốn vắng by Dương Thu Hương] (Paris: Éditions Sabine Wespieser, 2006)
Phan Huy Đường online