Phan Huyen Thu
From Wikivietlit
Phan Huyền Thư
(1972) is a poet and fiction writer.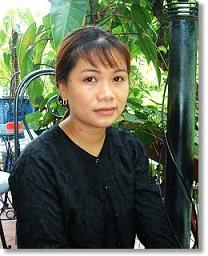 She was born in Hanoi, where she lives. She comes from a musical family, her father the famous song composer Phan Lạc Hoa, her mother the famous singer Thanh Hoa. She herself has performed publicly on various traditional instruments. A journalist and screen-writer by trade, she is the author of two collection of poems, Nằm Nghiêng [Lying on my Side] (2001) and Ngực Rỗng [Empty Chest] (2005), and a book of stories, Wooden Gecko (2003). Her works have been translated into English and published in The Literary Review and Of Vietnam: Identities in Dialogue (Palgrave 2001).
Linh Dinh started this entry.
Phan Huyen Thu online