Dan Duffy
From Wikivietlit
Dan Duffy
(1960) is an ethnographer of intellectuals involved with the nation of Viet Nam. He has promoted Vietnamese literature to the United States since 1991.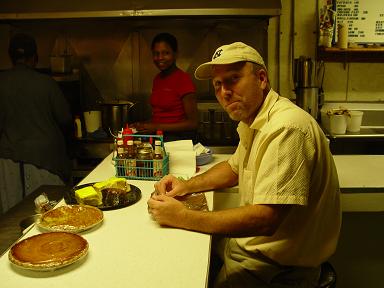 He was born in New Haven, Connecticut, to a family active in the French and American armies in Viet Nam as well as throughout the Cold War. Where his uncles and cousins served as enlisted men and women Duffy was instead educated at Exeter and Yale, traditional schools of the rulers who sent them to war. He likes to bring everyday experience to scholarship and overview to the general public.
After college he edited anthologies of literary criticism covering US poetry in the 20th century for the Chelsea House Library of Literary Criticism under critic Harold Bloom. In the late 80s he joined Kali Tal at Viet Nam Generation, Inc. to publish fiction, poetry and literary criticism from such dissenting Viet Nam War veterans as W.D. Ehrhart, Alan Farrell, and David Willson.
In the early 90's he was recruited by Huỳnh Sanh Thông to revive his Viet Nam Forum and Lac Viet series at the Yale Council on Southeast Asia Studies. In the mid-90s, he was funded by the Ford Foundation to work as a consultant at Thế Giới Publishing House in Hanoi, where he recruited Hữu Ngọc, Phan Thị Vàng Anh, Nguyễn Huy Thiệp and Hoàng Ngọc Hiến to visit the US on trips sponsored by Ford and the State Department.
In 1996 he returned to the US, published several volumes in the Yale series, and in 1997 began graduate study in Anthropology at the University of North Carolina at Chapel Hill. He founded Books & Authors: Viet Nam, Inc., a non-profit publisher, and over the next five years failed in two attempts to bring out teaching materials on Vietnamese history.
In 1999, on the way back to Hanoi for language study, he learned that he had been "banned for life" from Vietnam, despite intervention by supporters at the Ministry of Culture & Information and at the Ministry of Foreign Affairs. The high-ranking municipal police minders of one author passed the word that the Ministry of the Interior considers that Duffy works for the US Central Intelligence Agency.
Duffy says they are mistaken. He certainly doesn't have the police, military or diplomatic background usual in intelligence officers. Moreover, the US has no strategic interest in Vietnamese literature.
He has taken advantage of the situation to work on Vietnamese literature free of concern about qualifying for a Vietnamese visa or for the US research funding that depends on that privilege. He can speak openly about Vietnamese oppression of authors and work as a scholar for the public rather than through a university discipline.
He spent the academic year 2000-1 in Paris with the support of the French government, mapping the Vietnamese bookstores of that country. Teaching at Chapel Hill through 2004 he developed "Asia In North Carolina", an undergraduate research publication on Asian Americans in the South, while writing his dissertation.
In 2005 he launched Viet Nam Literature Project, at Books & Authors: Viet Nam, Inc., promoting the use of Vietnamese literature in the US through public events, a print newsletter, teleconferences, and a website including this wiki.
In May 2008 he defended his doctoral dissertation in Anthropology at the University of North Carolina, "Self Reliance: Ethnography of Literature Outside Viet Nam." In February, 2010, the Vietnamese government granted him a visa to enter their country, where he returned in January and February, 2011, as a lecturer for Academic Arrangements Abroad.
Linh Dinh started this entry. Dan Duffy expanded it for fundraising.
Dan Duffy online
Resume and Curriculum vitae
by institution, in chronological order from the present back:
Facebook 2011-present
Diacritics 2010-present
Amazon 2009-present
Global South Working Group, University of North Carolina, Chapel Hill 2008-present
Doctoral dissertation, Anthropology, University of North Carolina, Chapel Hill 2008
Viet Nam Literature Project 2005-present
Asia in North Carolina 2003-4
Link under construction. Needs scan, upload and link. "University of North Carolina undergraduate research publication"
Vietnamese Studies Group (Association for Asian Studies) 1999-present
Link under construction. Needs intro, then specify links. Include Paris field notes and any articles archived by Judith Henchy.
Master's thesis 1999
Link under construction. Needs scan, upload and link. "The Combined Documents Exploitation Center"
Viet Nam Forum and the Lac Viet monograph series 1994-6
vwar listserv ca. 1989-1995
Viet Nam Generation 1989-1995
With founder Kali Tal, grew company newsletter into an academic journal accompanying the monograph series. Some journalism:
Chelsea House Library of Literary Criticism 1983-1987
Collections of criticism on authors, works and periods in US poetry, used widely throughout US. See for instance holdings listed at Worldcat entry American Poetry 1915-1945 edited by Harold Bloom, Chelsea House, 1987
DEMAND 1981-2
Link under construction. Needs scan, upload, intro and link.