Xuan Dieu
From Wikivietlit
Xuân Diệu
, full name
Ngô Xuân Diệu
(1916-1985), was a poet, fiction writer and critic.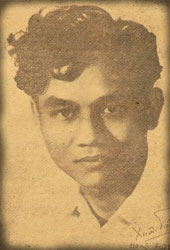 He was born in Bình Định, northern Vietnam, grew up in Qui Nhơn, central Vietnam, worked briefly in Mỹ Tho in the Mekong Delta, then spent most of his adult life in Hanoi, where he died. In his 20's, he became a leader of the Thơ Mới [New Poetry] movement, and a member of Tự Lực Văn Đoàn [Self-Reliance Literary Group], founded by Nhất Linh. His first book of poems, Thơ thơ (1938), and collection of stories, Phấn thông vàng (1939), quickly established his reputation. In 1943, he graduated from law school. In 1946, he joined the Việt Minh in their fight against the French. In 1949, he became a member of the Communist Party. That same year, he published Dưới sao vàng [Under the Yellow Star], a collection of poems praising the Party, one of several to come. He would go on to become a powerful member of the Writers Union, using his position to attack those who had veered away from Communist orthodoxy. In the end, he is best known for his love poems. Although briefly married LINK NOT FOUND AUGUST 2009, he was a homosexual, a fact still unknown to most of his admirers, although revealed in poems such as "Tình trai" LINK NOT IMMEDIATE AUGUST 2009 ["Love of Men"], about the love affair between French poets Arthur Rimbaud and Paul Verlaine, "Tặng bạn bây giờ" LINK NOT IMMEDIATE AUGUST 2009 ["To You Now"], "Đời anh em đã đi qua" LINK NOT IMMEDIATE AUGUST 2009 ["You've Passed Through My Life"] and "Em đi" ["You Leaving"], the last two addressed to poet Hoàng Cát, his live-in lover. Well-known poet Huy Cận, another of his presumed lovers, also wrote "Ngủ Chung"LINK NOT FOUND AUGUST 2009 ["Sleeping Together"]. In his 1993 memoirs, Tô Hoài confirmed that Xuân Diệu was reprimanded by the Việt Minh for climbing into other men's beds, uninvited.
His work is part of the high school curriculum in Vietnam, and there's a street in Hanoi named after him. In 1995, ten years after his death, the magazine Văn Học dedicated an issue to him. In 1996, he was awarded a Ho Chi Minh Prize for Arts and Literature.
Linh Dinh started this entry.
Works
poetry
Thơ thơ, 1938, reissued many times
Gửi hương cho gió, 1945, reissued 1967
Ngọn Quốc kỳ, 1945, reissued 1961
Hội nghị non sông, 1946
Dưới sao vàng, 1949
Sáng, 1953
Mẹ con, 1954
Ngôi sao, 1954
Riêng chung, 1960
Mũi Cà Mau - Cầm tay, 1962
Một khối hồng, 1964
Hai đợt sóng, 1967
Tôi giầu đôi mắt, 1970
Hồn tôi đôi cánh, 1976
Thanh ca, 1982
Một chùm thơ (Paris, 1983)
Tuyển tập Xuân Diệu, first volume, 1982
Tuyển tập Xuân Diệu, second volume, 1985
Thơ tình Xuân Diệu, 1988, edited by Vũ Quần Phương and Hữu Nhuận
Thơ tình Xuân Diệu, edited by Hà Minh Đức (Hanoi: NXB Đại học và giáo dục chuyên nghiệp, 1992)
Thơ tình Xuân Diệu, edited by Ngô Văn Phú (Hanoi: NXB Hội Nhà văn, 1992)

prose
Phấn thông vàng, 1939, reissued 1967
Trường ca, 1945, reissued 1957
Miền Nam nước Việt, 1945
Việt Nam nghìn dặm, 1946
Việt Nam trở dạ, 1948
Ký sự thăm nước Hung, 1956
Triều lên, 1958

critical writing, translations, etc.
Thanh niên với quốc văn, 1945
Ký sự thăm nước Hung, 1956, about his trip to Hungary
Những bước đường tư tưởng của tôi, 1958
Phê bình giới thiệu thơ, 1959
Hồ Xuân Hương bà chúa thơ Nôm, 1961, on Hồ Xuân Hương
Trò chuyện với các bạn làm thơ tre, 1961
Thi hào Nadim Hit-mét, 1962, a collection of Nazim Hikmet in translation
Dao có mài mới sắc, 1963
Thi hào dân tộc Nguyễn Du, 1966, on Nguyễn Du
Hai đợt sóng, 1967, translations of Lenin and Mayakovski
Thơ Trần Tế Xương, 1970, on poet Trần Tế Xương
Đọc thơ Nguyễn Khuyến, 1970, on poet Nguyễn Khuyến
Và cây đời mãi mãi xanh tươi, 1971
Việt Nam hồn tôi, 1974, essays
Lượng thông tin và những kỹ sư tâm hồn ấy, 1978, an anthology of Bulgarian poetry
Các nhà thơ cổ điển Việt Nam, 2 volumes, 1981
Thơ Nicôlai Ghiden, 1982
Những nhà thơ Bungari, 1985, about Bulgarian poets
Xuân Diệu online