Phung Cung
From Wikivietlit
Phùng Cung
(1928-1997) was a poet and fiction writer.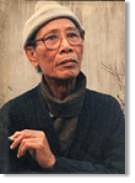 He was born in Sơn Tây and died in Hanoi. One of the youngest members of the dissident literary movement, Nhân Văn Giai Phẩm, active in North Vietnam in the mid 1950s, he became famous through the 1956 allegorical short story, "Con Ngựa già của Chúa Trịnh" ["Lord Trinh's Old Horse"], which ridiculed prominent writers for mechanically mouthing Party propaganda. In 1962, he was arrested by the Communist government and jailed for twelve years without charge. He re-emerged in 1994 with the poetry collection, Xem đêm [Watching The Night], which caused a sensation in the Vietnamese literary community worldwide. A 436 page collection of poems and stories, Phùng Cung: truyện và thơ (chưa hề xuất bản), with an introduction by Lâm Thu Vân, biography by Phùng Hà Phủ, essay by Nguyễn Chí Thiện, and cover by Khánh Trường, was published by California publisher, Văn Nghệ, in 2003. His poems have been translated into English by Linh Đinh and published in the journal The Literary Review.
Linh Dinh started this entry.
Phùng Cung online