Lynh Bacardi
From Wikivietlit
Lynh Bacardi
(1981), real name Phạm Thị Thùy Linh, is a poet and fiction writer.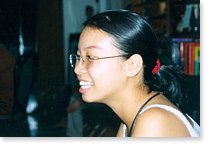 She was born Saigon, where she still lives. A 5th grade drop out, she has worked as an itinerant vendor of cakes and lottery tickets, and is now a typist and a translator of children's literature. She has published poems in several leading Vietnamese literary journals and webzines. Translated into English by Linh Đinh, her works have also appeared in Tinfish and Nhà Magazine.
Linh Dinh started this entry.
Lynh Bacardi online