Tran Da Tu
From Wikivietlit
Trần Dạ Từ
(1940), real name Lê Hạ Vĩnh, is a poet, editor and publisher of
Việt Báo
, a newspaper based in Southern California.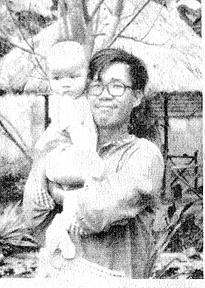 He was born in Hải Dương, northern Vietnam. In 1954, during the partition of the country, he went to Saigon, where he became a journalist and prominent poet. During 1963, he was jailed by the Ngô Đình Diệm government for his dissident views, then imprisoned for 12 years by the Communists from 1976-1988, after the collapse of South Vietnam. His wife, the famous novelist and poet Nhã Ca, the only South Vietnamese female writer among 10 black-listed as "cultural guerrillas" by the Communist regime, was also imprisoned from 1976-1977. In 1989, a year after Trần Dạ Từ was released from prison, the couple and their children received political asylum from the Swedish government, but later moved to the US and now live in Southern California.
His poetry—most notably the 4,000-line "The Stone that Generates Fire" ("Hòn Đá Làm Ra Lửa"), was translated by Cuong Nguyen and featured in Writers and Artists in Vietnamese Gulag, eds. Nguyễn Ngọc Bích and Ruth Talovich (Century Publishing House: 1990). The seminal poem "Tặng Vật Tỏ Tình" has been translated variously into English as "Gifts as Tokens of Love" (Huỳnh Sanh Thông), "Love Tokens" (Linh Dinh), and "A Gift of Barbed Wire" (unknown translator, but used as title of a book by Robert S. McKelvey about America's abandoned allies in South Vietnam, published by University of Washington Press in 2002). "Gifts as Tokens of Love", "Drinking Song" ("Bài Hát Mời Rượu"), and "The New Lullaby" ("Lời Ru Mới")--all from Declaration of Love in the Night--were translated by Huỳnh Sanh Thông and appeared in An Anthology of Vietnamese Poems, ed. Huỳnh Sanh Thông (Yale University Press: 1996); and From Both Sides Now, the Poetry of the Vietnam War and its Aftermath, ed. Philip Mahony (Scribner: 1998).
The critic Đinh Từ Bích Thúy writes, "Like most South Vietnamese writers of the same generation, i.e., Doãn Quốc Sỹ, Dương Nghiễm Mậu, Nguyễn Mạnh Côn, Trần Dạ Từ considered himself 'old before his time' because of the time he lived in. His generation's literary outputs were seen as too solipsistic, too philosophical, too 'existentially ambivalent,' in Nguyễn Bá Chung's description. From the Communist perspective, which only allowed a state-sanctioned mode of expression in the North, Trần Dạ Từ and his urbane, subversive, chain-smoking circle of friends were simply dismissed as too full of themselves and too negative to divert or prevent the U.S. imperialist policy in the South." Although somewhat neglected for a time, it's becoming clearer than ever that Trần Dạ Từ's one of the leading Vietnamese poets of his generation.
Linh Dinh started this entry.
Works
Thủa làm thơ yêu em [The Time of Writing Love Poetry] (Saigon 1960)
Tỏ tình trong đêm [Declaration of Love in the Night] (Saigon 1965)
Nụ cười trăm năm [A Smile for Our 100 Years] (written in the U.S., unpublished)
Trần Dạ Từ online